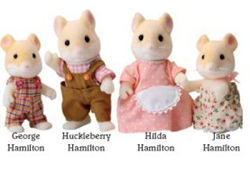 The Hamster Family are otherwise known in Sylvania as the Hamilton Family.
Huckleberry Hamilton is the blacksmith. He enjoys nothing better than hammering the shoes for the Sylvanian ponies into shape on his anvil. The only drawback is that he gets very hot in the process!
Hilda Hamilton is the riding instructor. She is very lucky in that whenever any of the ponies throw a shoe, she can lead them straight toher husband who carries out the necessary repair.
George Hamilton is officially the apprentice blacksmith, but he'd much rather join Douglas Furbanks in his latest stage production. His dream is to one day play the male lead.
Jane Hamilton is very hard working and helps her mother, Hilda, at the riding school, brushing and cleaning to earn some pocket money. She also loves to help Captain Seadog on the Canal Boat, but does this free of charge, as she has so much fun!