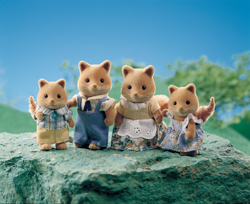 Slick Slydale is a mine of information and very clever. He'll know the answer to any question you ask him.
Velvette Slydale is always on the lookout for a bargain. She has been known to travel for miles and miles and queue for hours and hours just for the spring sales.
Skitter Slydale is always on the go, but like his older brother, he is a bit naughty. His favourite trick is to run off with his baby sister's toys.
Scarlet Slydale spends hours brushing her tail and is very proud of its glossy, healthy condition.