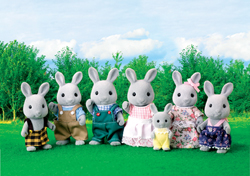 Father, Cliff Babblebrook, has the gift of the gab. He tells the tallest tales you've ever heard with the straightest of faces. Everyone agrees that he should have been a second-hand car salesman, rather than a store keeper!
Mother, Crystal Babblebrook, is the best cook in Sylvania, which is very surprising as her mother Pearl was the worst! Crystal has also written a 'cooking at home' book which covers everything from how to boil an egg, to how to bake a carrot cake.
Brother, Bubba Babblebrook, has the most amazing sense of hearing. He might be at the far side of the playground but can still hear you open a sweet wrapper and be standing next to you in a flash. His mother teases him by telling everyone he can hear the grass grow!
Sister, Breezy Babblebrook, always likes to have her own way. Her mother, Crystal, thinks that her father, Cliff, spoils her and should be firmer with her when she makes demands. He just shrugs his shoulders and says: "How can you be cross with her when she has such a pretty smile?"
Older brother, Richard Babblebrook, is the strong, silent type who is good at sports and most of his academic subjects, but very, very shy. He wants to be a tree surgeon when he leaves college because it's a job where he would be working alone in the woods of Sylvania.
Older Sister, Judy Babblebrook, is the most outgoing person you will ever meet! Everyone thinks she should have been called Breezy or Bubbles, names that suit her personality perfectly. She breezes in and bubbles over with gaiety and a zest for life.
Baby, Coral Babblebrook, is really noisy, especially when she is hungry. Hungry for attention, cuddles, a toy or food. Cliff, her father, thinks she could represent Sylvania in the noise Olympics!