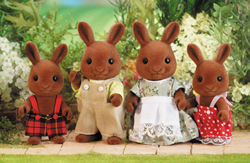 Herb Wildwood, loves to throw parties. He doesn't need a reason, like someone's birthday or anniversary to invite all his family and friends around for a bit of a do!
Ginger Wildwood is a great hostess, famous for her legendary party food and especially for her spicy carrot and lettuce cake.
Rusty Wildwood is very, very musical. He can play most instruments well, but likes the trumpet and electric guitar best because they're loud and brash.
Hollie Wildwood is like her father and just loves parties, her favourite occasions being Christmas and New Year.