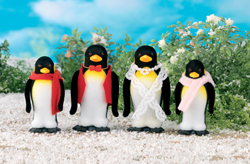 Father Louis de Burg runs a specialist catering company providing all your needs, be it a wedding party, anniversary celebration or a large summer picnic for the whole of Sylvania. Always smartly dressed, very deferential, politely spoken, he makes ever customer feel special.
Mother Perma de Burg is the maitradee in the family catering business, taking the bookings and ensuring the customers enjoy their meal. She also writes out all the menus by hand in the most beautiful flowing script. She is a very busy lady running the business and the family home.
Brother Frost de Burg is the waiter in the family business, when he is not working hard at school or playing football with his friends. He is very good at waiting tables and all the customers love him. He is very nippy around the tables with his arms full of plates, rushing back and forth.
Sister Storm de Burg is top of her class at mathematics, lucky, because she runs the company accounts in her spare time after school. All her column entries in perfect straight lines, every column balancing to the penny, her accounts are a work of art.