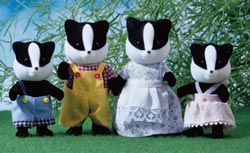 The Badger Family are known in Sylvania as the Underwoods and includes Father Benjamin Underwood, Mother Beatrix Underwood, Brother Byron Underwood and Sister Bess Underwood.
Benjamin Underwood and his family are wandering Sylvania in their caravan. Benjamin is an expert at mending broken furniture and putting up shelves.
Beatrix Underwood is a very capable badger indeed. Her father had always inspired her with his motoring stories and so from an early age, Beatrix became interested in the mechanics of any vehicle with wheels.
Byron Underwood takes after his grandfather who was the Sylvanian society photographer of his day.
Bess Underwood is known for her striking features, and her beauty is the talk of Sylvania.